Seems like I've been forever M.I.A. as of late, but whatev...
Ok, so I just came back from Wasaga with my friends, and I headed straight to work. You would think that seeing these dudes 4 days straight would make me sick of them... AW HELLLL NAW! I just had to see them again... again and again! So after my Sunday shift, I was with my girl Jess, aka Li'o Jitz hahaahaha... then on our way to Real McCoy (that is CLOSED on a Sunday FYI), our boy Derik, aka Venus Flytrap, sees us on the road and decides to tag along. Well, because our plan A didn't work out... we decided to hit up
Markham Station
(again, no website) simply because it was within the vicinity. This 24-hour restaurant isn't necessarily a burger joint, but they claim that they are 'not just' burgers. So how'd they measure up?
She on the phone with her friends like how cool is he?

thrifted denim button up (no label), Wilfred bustier crop top, Talula acid wash skirt, H&M heels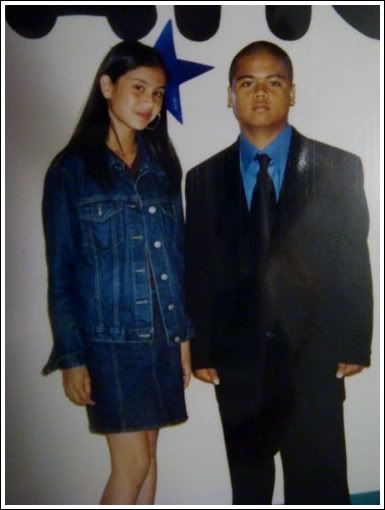 THROWBACK: Our Lady of Grace graduation...
hahahahahaahahah What you know about the denim on denim???
2 of the best people I know in life. Promise!
I ordered a hamburger (obviii) with a baked potato on the side!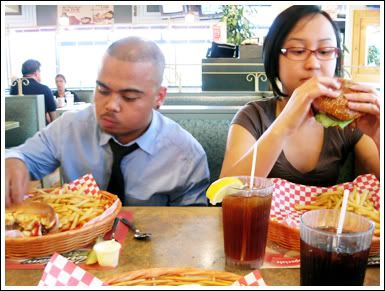 In the spirit of burgers, Derik and Jess also ordered some!
They both got banquet burgers, though...
SAME THANG... SAME THANG SAME THANG SAME THANG MANG!!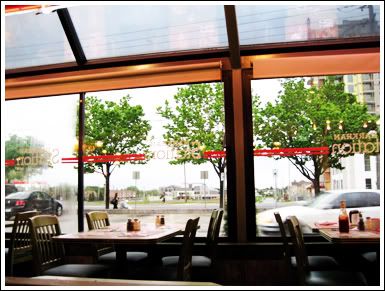 We stayed so long... it turned into night!
THROWBACK: My 9th birthday
Top row: Jessica & I
Bottom row: Shells & Aja
Wooooooow hahahahahaah time flies!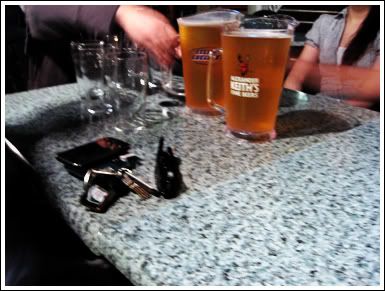 Then we headed to Jakes... typical.
To be honest, from the getgo, I wasn't really expecting Markham Station to blow me out of the water with their burgers, but just because they hyped themselves up, claiming that their burgers are 'not just a burger,' I was kinda expecting them to back it up. What did I think? Average. It was filling, and I like the fact that I got to pick a side other than french fries or onion rings. Yea, it was a good burger... but not a great burger. But I can't deny that I shared it with great company....... awww shiet. 3 stilettos.